Told by Gwen Hilary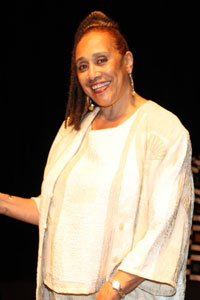 This story represents to me the power and overwhelming impact of storytelling in the lives of tellers and communities blessed to hear them. It reveals the journey that many professional tellers have to experience as they remain true to their calling, knowing that the financial rewards might be less than other professions they could opt for that don't fulfill their mission.  They "listen to their hearts and follow their dreams" believing that this is the calling they are destined to follow.  I was truly inspired to tell this story of redemption, forgiveness, and triumph and was overwhelmed by the positive responses I received from the sharing of this story at the showcase.  It was especially rewarding that the audience was comprised mostly of fellow storytellers and to receive praise from the trained listener is so gratifying.
(adapted from the book of the same title from Angela Shelf Medearis, told with permission)
About Gwen
I have had the joy of telling the story at the Celtic Knot in Evanston, Illinois, for a fundraiser to benefit the Illinois Storytelling Festival program planned for 2012.  I was accompanied by my partner, a musician, who played the flute as I told.
I will long remember and treasure this year's NSN conference storytelling experience.
I also was excited this year to have a small non-singing role in a new medium for me, an opera which that was presented on Sept 29-30 in Chicago. The American Chamber Opera presented THE MARCH Civil Rights Opera Project's "Concert & Mass Meeting 2.0″ at the Chicago Temple, 77 West Washington Street. It presented the untold story that explored the people and events surrounding the 1963 March on Washington.
Contact Gwen
Website: www.storytelling.org/gwenhilary/
Email:
Podcast: Play in new window | Download