By Susanna Holstein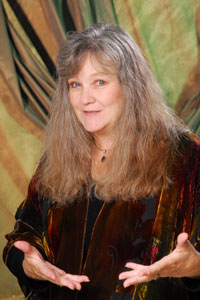 The school visit was all that I wanted it to be: well planned, well received, a joyful, thoughtful sharing of stories and songs with over 500 children, parents and teachers. It was an affirmation of what I do. During the times when I have no storytelling work I turn my focus to other things, sometimes researching stories, other times working on my antiques booths or working around home. When a performance comes up after a long hiatus, I sometimes ask myself, "Why do I do this? Would it not be easier to just be like other people and clean house and putter in my gardens instead of going out to tell stories to strangers?"
But each time I venture out to tell, I come home realizing that those who were once unknown are strangers no more. I come home filled with the wonder of the impact of a tale told and a song simply sung. I am humbled by the reaction to the stories, and to me, the storyteller. I realize over and over again the importance of sharing stories, of reminding people of the deep pleasure of listening, of the teachings in the old tales. I come home revitalized and determined to continue this once vaulted profession of storytelling–a profession that over the years lost its command of public interest as different forms of media developed and replaced it in the homes and hearts of people.
And yet…when I say "I am a storyteller," when I explain what a storyteller is (so many do not know and think it is only reading to little children), when I say that the stories I tell live in my mind and not on paper, when I sing the ages-old songs and see the delight and sometimes deep emotion induced in my listeners, I feel once again the power in my blood, in my voice.
I am a storyteller. I tell stories. I follow the ancient path of bards, griots, seanachies, and elders. This is who I am, this is what I do.
©Susanna Holstein – reprinted from an article on www.grannysue.blogspot.com
About Susanna
Storyteller, writer and ballad-singer Susanna "Granny Sue" Holstein is West Virginia's Liaison to NSN. She writes the blog Granny Sue's News and Reviews, the poetry blog Mountain Poet and a monthly column for Two Lane Livin'. Her work has been published by Woodland Press, Little Creek Press, NSN Press and other print and online journals. Her CD, Beyond the Grave: Appalachian Ghost Stories and Ballads is available from Amazon and the WV Book Company. A new CD titled Lucky 13: War, Love and Growing Up in a Family of 13 Children will be available in May 2013.
Contact Susanna
Email:
Websites:
www.grannysu.blogspot.com
www.grannysue.blogspot.com
www.mountainpoet.wordpress.com
www.twolanelivin.com