CBS News   April 23, 2018
By JEREMY BRADLEY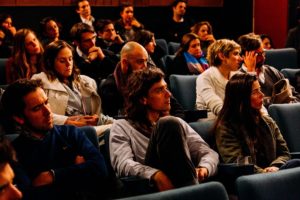 Slow down. Talk. Listen. In a world of partisan politics and viral videos these concepts can feel like relics of a bygone era.
But something's happening in Vermont. In the hip art houses of Burlington, at serene coffee shops outside Montpelier and in cozy wooden theaters of rural Rutland, people are coming together to connect with one another, to look each other in the eye, to share laughs and tears and ideas. They're the storytellers of Vermont.
"We're sort of circling back to that tradition of sitting and listening to people and really hearing somebody else's perspective," says Susanne Schmidt.
Fame isn't something most of these storytellers seek and certainly don't expect. But in her own regard, Susanne Schmidt is a famed storyteller of Vermont. She's a licensed mental health counselor by day and a storytelling virtuoso by night. She's also a regional producer for the ultra popular storytelling podcast, "The Moth," co-creator of a collaboration between comedic storytellers and non-profit organizations called Say It Forward, and a regular storyteller at events all across the state.
When Schmidt was showing CBS News around downtown Burlington, someone yelled out to her, "Hey, storyteller!" Something she says is not uncommon, calling the frequent, friendly, six degrees of separation encounters like this a "Vermont moment."
Storytelling events have seen vibrant growth in Vermont over the last few years, but the culture of folks getting together to swap tales has deep roots in the area. Recille Hamrell, a spry 80-year-old, has been leading open mics around Burlington for over a decade. Lovejoy Dole, from the Montpelier area, is often credited with starting the first event here specifically for storytelling, called Extempo, back in 2010.
"There's a great sense of connectivity in Vermont," says Dole. "People are connected to the natural landscape. People are connected to their neighbors. And storytelling is a form of connectivity as well — perhaps the ultimate form."
Michael Kingsbury, from Rutland, organizes storytelling shows in in rural southern Vermont and surrounding areas.
"Storytelling in Vermont is the way we connect across generations," Kingsbury explains. "And it's the way we find out that we all really share the same experience. And it's because of where we live. It's because of the people that we are."
Storytelling shows come in all varieties, but the traditional format is often called a "storyslam," where people gather at a venue with their story prepared and rehearsed. Names are pulled from a hat, and the lucky few go on stage to tell a five to six-minute story. The stories are always told in first-person, citing their own life experience.
On a bitterly cold March evening, a lively crowd of some of Vermont's best storytellers gathered for a show held at Vermont Public Radio.
Marlon Fisher hosted the show, giving the capacity audience some laughs with his faux obliviousness to local geography and proper city pronunciations.
Mark Stein led off with a rollicking story of performing on stage as an kid, complete with a middle school crush, an adolescent villain and narrowly avoiding an awkward wardrobe malfunction.
Annie Mollo told a touching story of being hit by a car, learning to ask for help and a renewed love of humankind.
Leslie Ruster thrilled and chilled the crowd with a tale of the supernatural as a counselor at a wilderness camp.
Bobby Stoddard shared about his pubescent awakening that involved throwing rocks at girls, holding hands with girls and a risque magazine.
Kevin Gallagher told a poignant story of his decades-long relationship with his partner, a lost engagement ring, and how a sharing a mortgage can be as fraught as marriage.
Maggie May Anderson told a vulnerable and hopeful story of her lifelong struggle with depression.
Dennis McSorley explained the complicated relationship with two significant females in his life, his mother and his first dog.
And Susanne Schmidt closed the show with a touching recollection of her middle school chorus, confronting dark secrets with her grandmother and the value of family.
The diversity of perspective from the storytellers that night seemed to be a microcosm for its growing popularity. People are finding common ground in the shared experiences that come to life in storytelling shows all over Vermont, the country and the world. In a time when many feel divided and fractured, storytelling is helping them: Slow down. Talk. Listen.
"If I understand that that person that maybe didn't vote for the same person I voted for — or on the surface doesn't have the same values — once I know that person I can't discount them anymore. I can't pretend they don't exist," Susanne Schmidt says. "And so for me, in a live storytelling event we're connecting on a whole different level. And it's not me as a performer and you as an audience member. It's us as humans in the same place, having an experience that's going to bind us together."