© 2013 Laura Simms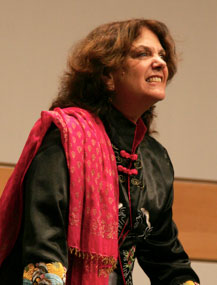 On the third day of a project, students , ages 9-15, in a school in Newark, NJ appeared restless.  The program entered its third hour. The teachers, vigilant, as if their job was to wait in ambush for someone to do something wrong, resorted to filling out forms.  Children had gathered threads of individual stories and wove them into a single tale. My attempts afterwards at a physical exercise failed.
"I think we need a story," said a ten-year-old boy.
I began a Russian Fairytale.  They settled down on either side of a wooden table covered with sketches of monsters, lined paper, and half eaten cookies.    My instruction:  You can make sounds, comment on the story, add your own ideas or talk to anyone in the story.
"A soldier guarded a stone tower. It was locked.
From sunset to sunrise he walked back and forth. He had no idea what was in the tower.
Then, one night he heard a voice."
Shrieking and groaning, the kids accompaniment began.   Caraid O'Brien recorded their voices.  They said, "Kill. "  "Let me loose."  "I hate it here."  "I hate human beings."  "There are ten girls buried beneath this tower kidnapped from a disco." More sounds.  If someone walked into our room they might have seen this as the opposite of a 'violence prevention and narrative program."  But if they noticed eyes and the visceral sense of sharing, they would feel the increasing peace of engagement.
"I have been captured in this prison for thirty years. Let me free.
If you do I will give you everything you want."
The soldier opened the lock.  A winged demon flew from the tower and vanished into the world.  A tremendous swishing noise arose.  The kids looked up waiting for the next installment.
"The soldier, coming to his senses, ran as quickly and as far as he could from the tower. 
'What have I done?" he cried out.
"Not only have I lost the only job I had, but I have let evil out into the world."
The mention of evil incited more responses. Until,
The soldier said, "If I had only left the demon in the tower!"
The demon appeared, offered him a home and a job.  If he kept his three daughters safe every night.
Scenarios about demons followed.  Even the vigilant teacher respected the potency of continuous creativity.
The daughters turned into white birds. The soldier became a yellow bird. They flew to a meadow with a golden throne and awaited a Queen named Helen, The All Wise. The birds learned wisdom. The yellow bird fell in love.
The demon gave us a gift.  Helen came to be known in our world.  They told love stories. Then retold their monster transformation tales and ended in chorus,
"They lived happily ever after."
Their afterward wishes: safety, wealth and food for everyone; clean neighborhoods; and three-year vacations for teachers. A girl, survivor of civil wars and the death of her mother, whispered, "I love today."
About the Story
This rendering of what took place is a teaser/summary to say the least. The entire process took place over three hours. The product was a CD made by Caraid O'Brien, that we are not legally able yet to share.  It was given to each student and to each staff member.  A more entire rendition of what took place IS the first chapter in my new book IN PRAISE OF FEAR and Wonder: Telling ghost stories to promote nonviolence.     We are including AN MP3 download of ghost tales with music, published as NIGHTWALKERS by NorthWord press (1996) and an MP3 of the accompanied story by the kids in the project.   Publication date, March 1, 2014.
About Laura Simms
Internationally acclaimed storyteller, writer and humanitarian: performances, and trainings;  initiatives for  peace, health and transformation.  Laura is a senior Shambhala  Meditation teacher.  She won the 2011 LIFETIME ACHIEVEMENT AWARD, NSN' Brimstone Award; 2012 ; NSN  Members-TRANSFORMING LIVES: The Stories We Tell., and  Sesame Street's SUNSHINE AWARD for work with children worldwide.  Senior Research Fellow at Rutgers University , Newark.  Director:  Center for Engaged Storytelling, NYC. (April 1, 2014)   In Haiti since 2010 with GIRLS WRITE HAITI. Books include OUR SECRET TERRITORY: The Essence of Storytelling  and  NOURISHING THE HEARTS OF OUR CHILDREN (Wildmercywords). Laura is artistic-director of HCA Storytelling in NY.
Contact Laura
Website: www.laurasimms.com