Event for Ages 10+
Hosted by Regional Director Sarah Juba Addison, Emceed by Sarah Malone

If You Would Like To View This Video You May Purchase Access In The Digital Library. If You Have Already Purchased Access And Are Having Difficulties Viewing The Content, Please Contact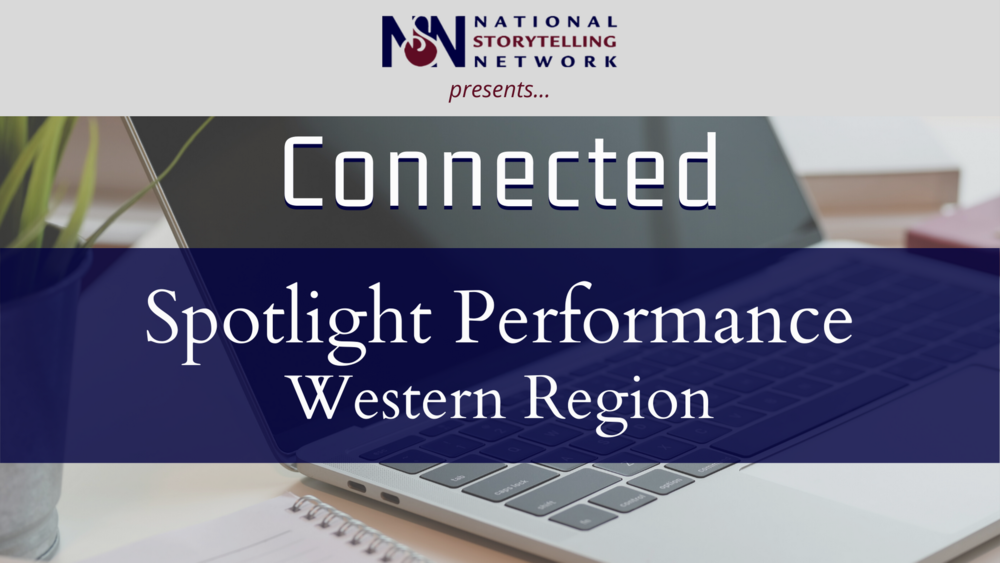 Stories
The Singing Sack told by Liz Mangual
A determined and clever mother saves her daughter from a dim witted and greedy ogre.
Liz's signature style of bilingual participatory storytelling is animated with foolish children, talking hummingbirds, not-so-smart ogres, and wise old women. Drawing on her Creole roots that reach to Spain, Africa and the island of her birth, Puerto Rico, she celebrates language and culture with tales that span the whole range of human experience, from the ridiculous to the sublime. "May you thrive and grow" is her wish for all of her listeners.
https://www.storyconnection.com/bilingual-storytelling
A Change in Perspective told by Cindi Allen
I race in my first swim meet as a young child. My worst fear is realized, but it turns out much different than expected.
Cindi Allen has been telling stories her whole life and finally took it to the stage two years ago. She's on the board of Storytellers of New Mexico, and has told stores at The Moth in Denver, Duke City Story Slam, The Liar's Game and the Moriarty Bean Festival.
The Dancing Girl told by Paul Taylor
Australian Aboriginal Dreamtime story of the dancing Brolga or Crane, a close relative in WY and the West to our dancing Sandhill Crane.
Acclaimed Australian performing artist, storyteller, musician and educator. Paul delights in celebrating both his European and indigenous heritage to all ages as a US touring artist in education and ambassador, with story, song, dance and painting. Mentored by Wardaman Aboriginal Elder Yidumduma Bill Harney for 30 years, Paul directs the YDP Dreaming Project sharing Wardaman cultural heritage.
www.paultaylor.ws
The Apple Dumpling told by Pam Faro
The old woman had no apple for the apple dumpling she craved; she set out on her search, having no idea of the chain of events to come.
Colorado storyteller Pam Faro has performed/taught across the US and overseas since 1988 – from Denver to San Francisco to Jonesborough; in Australia, Wales, Germany, Canada, and Italy. She tells folktales, bilingual cuentos, biblical and interfaith stories and personal/historical tales, including of her great-uncle surviving the Titanic. She offers storytelling skills workshops for all levels.
storycrossings.com
Sojourner Truth told by Carmen W. Artis
Carmen studied classical voice at Peabody Preparatory in Baltimore & is also a certified Speech Language Pathologist. She has performed her two one woman shows Sojourner Truth Ain't I A Woman & Coretta Scott King Let Freedom Sing! along the east coast with the Traveling Stage Company and has now brought them to various venues in Las Vegas NV, combining acting & song.
http://www.artis-hammel.com/music
Stagecoach Mary: A Pioneer Woman of Grit and Gumption told by Cathy Ringler
Actor Gary Cooper described Stagecoach Mary this way." She was born a slave somewhere in Tennessee, but lived to become one of the freest souls to ever draw a breath." This 6 foot tall, 200 pound woman was the first woman to carry the US mail. She loved whiskey, cheap cigars and her independence. In this presentation, the listener will be awed and amazed by Mary Field's legendary adventures.
Award winning author Cathy Ringler is a storyteller, cowgirl and retired teacher. She lives at the foot of the beautiful Beartooth Mountains and rides in them as much as her busy schedule will allow. Her debut middle grade novel, Miya's Dream, received several awards including a bronze medal in the 2019 Moonbeam Children's Book Awards.
www.cathyringler.com
Enos Mills, Rocky Mountain Naturalist told by John Stansfield
As boy and as man, Enos Mills (1870-1922) lived a remarkable mountain life. From childhood on, his bond with wildlife, mountains and wilderness, inspired him to overcome personal hardship to become a successful speaker, writer, naturalist, businessman, and driving force behind the creation of Rocky Mountain National Park and the National Park Service in 1916
For forty years, storyteller and author John Stansfield has recounted stories from the American West and the world. He has shared stories nationwide and is the founder of the Rocky Mountain Storytelling Festival. In 2008, the National Storytelling Network presented him the Oracle Award for Service and Leadership in the Western Region.
Presenters:
Sarah Juba Addison (Host)
Sarah Malone (Emcee)
Liz Mangual
Cindi Allen
Paul Taylor
Pam Faro
Carmen W. Artis
Cathy Ringler
John Stansfield