Times of India   October 7, 2018
Written by Ketaki Desai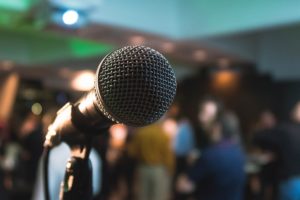 Priti Mutha was already struggling with post-partum depression when her father passed away unexpectedly. Her mind was full of thoughts she wanted to share but she had no one to talk to about. That's when she came across The Narrative, a live and personal storytelling show based in Chennai. "I don't know if it was fate, but the topic of the show was personal loss, and it felt as if it was meant to be. When I shared my story with a room full of strangers, I felt a release. Storytelling changed me as a person," says Mutha, 31, who has now started her own storytelling show.
Storytelling is one of the oldest forms of entertainment but it's found new life in India thanks to a proliferation of live storytelling events and competitive story slams over the last few years. From confessional stories about substance abuse to embarrassing dates, these events give ordinary people the chance to tell their stories in front of with an audience that truly listens.
The thing that differentiates storytelling from other forms of live performance such as stand-up comedy, for instance, is that the point is not to make people laugh, but creating a relationship with the audience. "Because it is a room full of strangers, there is no judgement or unsolicited advice. What's interesting is even though you don't know these people, but because you share something real, the next time you see them, you are friends," says Mutha.
Roshan Abbas, co-founder of the popular storytelling show Kommune, says, "It's validation on both sides. For the performer, they feel like what they're saying resonated with people and the audience feels less alone because they're watching someone say the thing they're too scared to put out there."
Kommune is structured as a story slam, loosely modelled on The Moth, a popular US-based live storytelling show. This means that the audience votes on a winner at the end of the night. From Hussain Haidry's frank discussion of the multitudes contained in his identity as a Muslim man in India, to Mini Mathur's funny anecdote of her number being leaked on the internet while she was a host on Indian Idol, the videos of their sessions amass thousands of views on YouTube. "Because it is competitive, we also do workshops to train people in technique and the nuances of performance. A lot of people look at videos of storytelling online and assume they can do it. It's not as simple as that," says Abbas.
Tall Tales, India's longest-running live storytelling event series, came into existence six years ago after founder Michael Burns began devouring videos of true stories online. "I believe that real life is so much funnier, crazier, and full of impossibility than anything anyone could make up. We focus on working with regular, everyday people from all ages and walks of life. We don't like to feature celebrities or even semi-celebrities," says Burns.
One of these regular people is Nasir Engineer, a 28-year-old improvisational theatre artist. He has performed at Tall Tales seven or eight times in Bengaluru and Mumbai, and the first story that he performed in 2012 was simply about losing one glove from a pair while trekking. "The thing I love about storytelling is how differently it's made me look at my memories. It makes me remember all of these small details that I would have otherwise just forgotten," he says.
For Indu Divya, founder of The Narrative, the value of personal stories is that we all have them. She says, "Organising these events has made me realise the power of sharing our internal narrative — our hopes, fears and dreams. We open the floor up to questions after our show so people can ask the storytellers anything they'd like."
Storytelling is certainly expanding in India, Engineer says there are shows and workshops every other week in Bengaluru, and Mutha sees new faces at every show she does. People are also paying to watch people tell their stories. While some shows do have free admission, both Tall Tales and Kommune have ticketed shows. Some, however, are skeptical of the boom. Burns says, "There is a ton of misunderstanding about what a story is and what makes a good live performance of a story. It certainly is improving but storytelling is actually an art form that needs to be understood and practiced. However, experimenting and failure is the best teacher so it really excites us that people are trying."
Abbas isn't too surprised by "the flood of content". "This generation is used to turning the camera on itself and just talking because of Snapchat and Instagram stories. But social media is the presentation of the best moments of your life. I think storytelling is becoming popular because it's a presentation of your life as it really is." From opening up about sexual abuse by a teacher to discussing the sleazy habits of Bollywood producers, performers are fostering the kind of intimacy and vulnerability on stage that is usually reserved for our closest friends.