Presenter & Performer Information
Welcome Presenters and Performers!
On behalf of the National Storytelling Network, thank you for agreeing to share your talent and expertise in storytelling. We anticipate the line-up of presenters and performers will be extraordinary, and we are honored that you will be a part of it.
Please check out the Presenter and Performer Welcome Packet below for details on preparing and accessing your session. All presenters and performers will receive the link to your specific session or performance 10 days before the conference begins.
Presenter and Performer Welcome Packet
All presenters and performers will be emailed a welcome packet. If you do not see it in your email inbox, please check your junk mail or spam folder (or, for Gmail users, any tabs you have enabled) for a message from NSN using the email address . If it is not there, please contact . the same information is included in the links on this page.
All You Need To Know!
We have created a presenter and performer welcome packet to share all you need to know to prepare for your session. We know that this may be a new experience for many presenters and performers and have provided very detailed instructions. Click the links below to download.
The tentative program schedule will be posted online with the session description provided, photo(s), and bio(s) if we have already received it. If you have not sent us your bio or photo, please do so by Wednesday, March 23, 2022.
All events are listed in Central Daylight Time. Don't miss your session!
General Guidelines
Presenter/Performer Contract: Presenter and performer contracts will be issued within 7-10 business days after receipt of your signed agreement letter. Agreement letters and contracts will be sent to presenters and performers via PandaDoc, an online software solution that provides a legally binding eSignature option.
Registration: Presenters and performers are required to register for the conference they are presenting or performing at and to pay the registration fee as part of confirming their participation.
Presenter/Performer Bio: Your bio should be no more than one paragraph outlining your professional background only. Personal information is only needed if relevant to your content and NSN reserves the right to edit your bio to fit within space constraints.
Example Bio:
Erin is the Media & Communications Coordinator for the National Storytelling Network. She enjoys personal narratives and loves a story with a good comedic kick! Erin has been with NSN since 2019 as a member, Board member, then enthusiastic employee. She loves helping storytellers promote their work.
Presenter/Performance Headshot: Each presenter or performer must have a headshot photo using either .jpg or .png formats. A headshot with a solid background is strongly recommended.
Recording Policy: Please review the NSN Recording Policy by CLICKING HERE.
Handouts: Providing examples of the concepts you are describing can sometimes help to solidify a presentation. If you want to share additional resources with attendees, you may submit them to NSN by April 1, 2022, and we will make them available for your session attendees online.
Tech Needs/Requirements: Please sign in to your Zoom session no less than 30 minutes prior to your start time to ensure enough time for a tech check and any final setup needs. A tech volunteer will be in each session to assist you.
Cancellations: Please notify the NSN office immediately if an emergency may prevent you from presenting your session.
Tips for a Successful Session
Powerpoint Presentations/Slides: Each slide should include a small number of points in a large font that is easy to read by attendees. Dense content is impossible to read. Images that demonstrate a point are a plus.
Flow of presentations: It is helpful to participants to state in a few points at the onset what presenters seek to convey. This will help to focus the participation of attendees.
Make it interactive: We all know that people learn by participating. Please try to incorporate as much "audience" participation to the extent possible.
Keep to time: Please follow the time limits set for your presentation or performance. Sessions and performances have very short breaks in between time slots and we want to provide attendees the ability to "stop and stretch" as much as possible between Zoom sessions and still arrive at their next session on time.
New this year!
Zoom Background: You are welcome to download and use the NSN branded Zoom background when presenting. A sample is below (please note: you must be logged into the NSN website to view the background).
Have Fun!
Presenter/Performer Training
Performer Meeting Information Video
This video covers the very basics (muting and unmuting your mic, changing your name, etc) all the way up to more advanced topics like proper backdrops, framing your picture, lighting, and sound. Please watch this video if you weren't able to attend, are new to performing on zoom, or want some tips for feeling more comfortable using this medium.
Master Class Leaders Training Video
This video shows the functionality of breakout rooms, how hosts/co-hosts can jump between rooms, and features a more laid-back discussion about leading Master Class.
Types of Sessions
Workshops
(90 minutes)
90-minute sessions with hands-on activities that actively teach a skill or technique to participants. They should not be lectures without participation.
Performances
(90 minutes)
90-minute sessions consisting of personal stories, folk tales, original stories, historical and biographical narratives, other art forms that use stories, and more. All kinds of storytellers are welcome, especially those from groups that have been traditionally underrepresented at NSN conferences and festivals.
Panel Discussions
(90 minutes)
90-minute sessions that bring together 3-4 experts on a topic. Each expert usually presents briefly, with 10-20 minutes of Q&A from the audience at the end of the session. Panel Discussions should include dedicated time for the experts to discuss questions from the moderator.
Master Classes
(4 hours)
4-hour sessions presented by a Master Storyteller for storytellers working toward mastery of a specific skill. Master Classes must have active engagement from participants. Small group work in breakout rooms is encouraged.
Spread the Word!
As a presenter at NSN conferences, please blog about your awesome topic! Let your networks and followers know that you'll be presenting at the upcoming conferences! Feel free to create your own graphics or posts or use the templates we've provided. If you have not yet received your graphic, we may be missing information (headshot, description, etc.). Be sure to tag NSN and use the hashtags in your social network posts.
Click To Download Your Press Release Template:
Remember to customize the template for your program prior to sending
Sample Social Media Post: Earth Up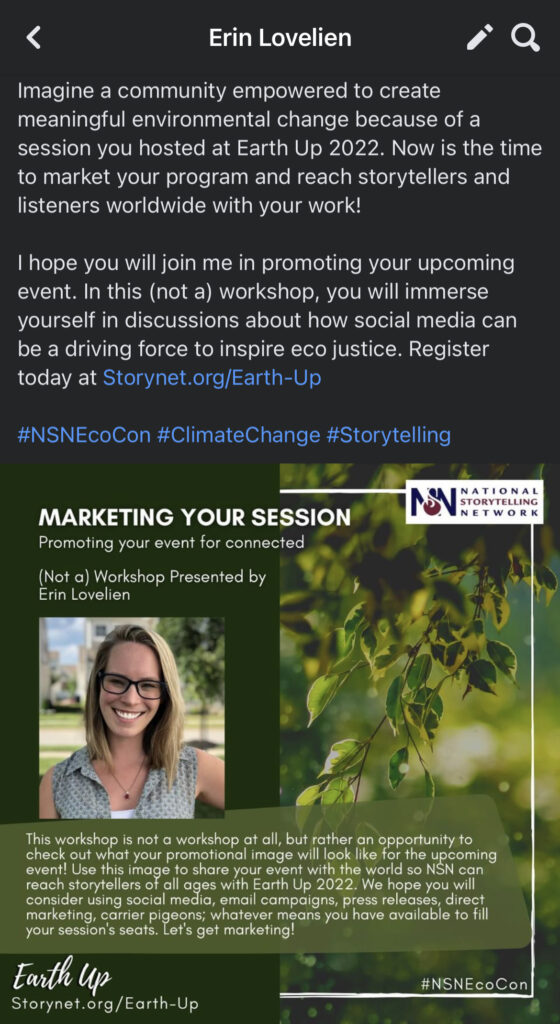 Sample Social Media Post: CONNECTED